Caoimhín Ó Fearghail was born in 1989 and comes from An Rinn in the Waterford Gaeltacht. He started to learn the tin-whistle at the age of eight, taking lessons from Bobby Gardiner. He quickly progressed to the uilleann pipes, under the tutelage of David Power. Some of his strongest piping influences include the old greats such as Séamus Ennis, Willie Clancy, Leo Rowsome, Tommy Reck and Patsy Touhey. He cannot deny the big influence that Liam O'Flynn, Mick O'Brien and Waterford pipers Tommy Kearney, Jimmy O'Brien-Moran, Tommy Keane and Donnchadh Gough have had on him, and is very much influenced by the many other great musicians and singers of his home area in Co Waterford.
Caoimhín was the 2012 recipient of the TG4 Young Musician of the Year award (Gradam Ceoil TG4).
In 2014, he joined the group Caladh Nua and in 2018, Caoimhín recorded an album of flute and fiddle music with fiddler Paddy Tutty from nearby Dungarvan. In 2020, Na Píobairí Uilleann released a solo piping album of his music as part of their 'Ace & Deuce of Piping' series.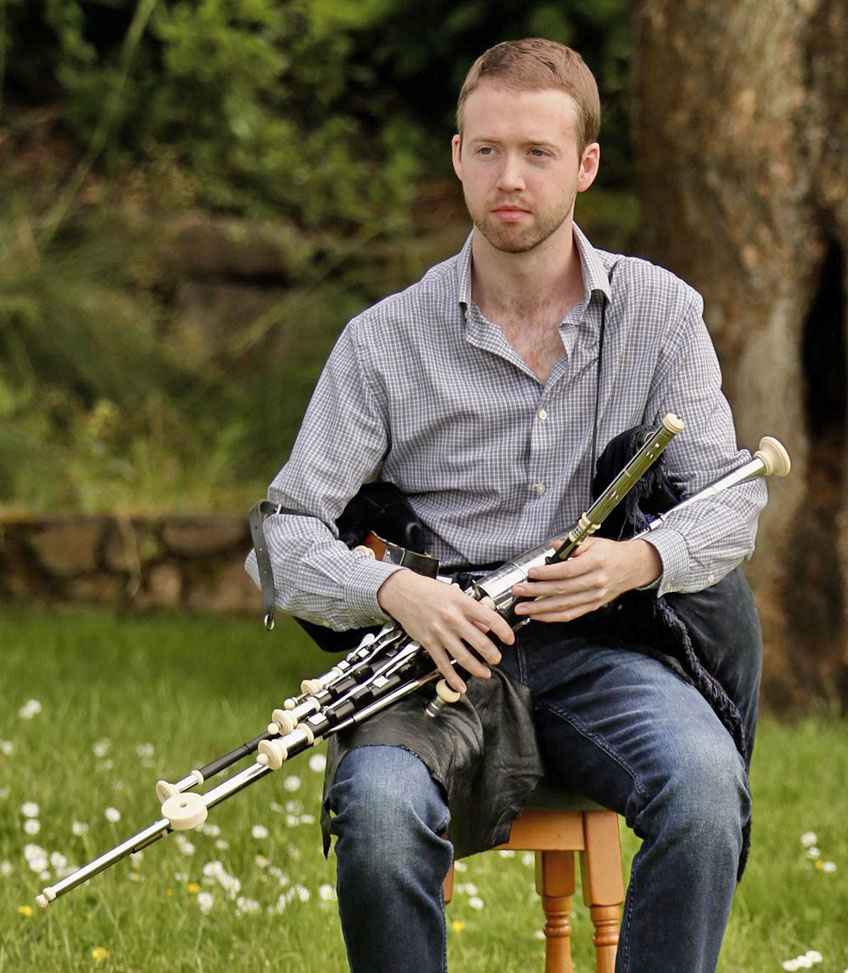 A frequent teacher and performer, he has taught pipes and performed at many piping Tionóil agus other piping events in Ireland such as Scoil Samhraidh Willie Clancy, the William Kennedy Piping Festival in Armagh, and also at the Northeast Tionól in the US. He has also toured abroad playing with groups such as Caladh Nua and Danú all over the US, the UK, Europe, Newfoundland and New Zealand.
He was recently chosen as Best Folk Instrumentalist at the RTÉ Radio 1 Folk Awards for 2021.
Caoimhín will be playing around the village as part of the Session Trail … so keep an eye and more importantly an ear out for him!